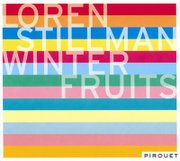 Loren Stillman, an alto saxophonist in New York City, released his album Winter Fruits in October, his second as a band leader.
Teaming with Nate Radley (guitar), Gary Versace (organ) and Ted Poor (drums), the eight-piece effort comprises a total time of 51:09. All songs were composed by Stillman.
His resume seems pretty impressive, as this is the 11th album he's been a part of. A feat that's even more remarkable since he hasn't even reached the tender age of 30.
Stillman was born in London in 1980 but was raised in Croton-on-Hudson, where he had easy access to the New York City jazz scene.
After studying with Dan Goble and Harvey Pittell at the Boston University Tanglewood Institute, he soon began to get noticed for his music and the awards began piling up.
On this album Stillman says he showcases the collaborative approach he has taken with his bandmates, who have played together for the past five years.
During the mixing and mastering process of Winter Fruits, Stillman wanted the sound to be more like a classical string quartet, which he said would reflect the group's organic interaction.
It could be that I'm just burned out on reviewing jazz CDs but I wasn't really impressed with this effort.
For sure the music is strong and tight. It is apparent that Stillman, Radley, Versace and Poor have played together for a while.
But I didn't hear anything that separated it from the countless other jazz recordings I've listened to over the past year. Sax, guitar, organ and drums. Yeah!
But that's not to say this album cannot be enjoyed. The title song, Winter Fruits, is pretty cool. It's busy. I'm sure there is a nice, poetic word out there that would perfectly describe it, but that word is not in my vocabulary, yet.
So while I cannot recommend running out and buying this album, if anybody is strolling through the jazz section of their favorite record shop, this piece just might be for you.