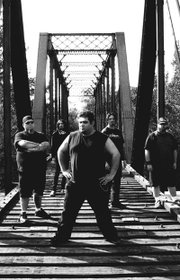 YAKIMA - ON-EDGE, a heavy metal, rock band from Yakima is preparing to head into the studio to record its first full-length album next January.
ON-EDGE has been sharing its brand of music in the Yakima Valley since 1998, but has gone over several changes since then.
One change was the addition of Sunnyside's Rudy Gonzalez on vocals. Gonzalez had been familiar with ON-EDGE ever since his days fronting the band Misanthropy. In 2006 he formally joined ON-EDGE.
"I originally contacted the band because I wanted to record them," Gonzalez said.
He had just left Misanthropy and was looking for something to do so he spent a couple of months traveling to Naches where he would record ON-EDGE.
"They started looking for something to add to the band," Gonzalez said. "They hired me to play keyboards for them. That lasted about two band practices."
Keyboards were out but soon so was ON-EDGE's vocalist. That paved the way for Gonzalez and he's been with the band ever since.
Recently the band added bassist E.J. Ramos, also of Sunnyside. The two Sunnyside natives join Pete Silvestri (lead guitars), Kyle Adams (rhythm guitar) and drummer James Kendrick.
Gonzalez described the band's sound as more metal than rock but added the music is mainstream. The band plays all over the northwest and has couple of shows lined up in Yakima this January.
"We've been known to put on our own shows but we're trying to get away from that," Gonzalez said. "It just costs too much."
The band writes its own music and recorded a single last March when the band was in Georgia.
This past September the band signed with Turkey Vulture Records in Wisconsin and will record between 10 and 12 songs for their first album. The band plans on recording in Wisconsin with the help of producer Jason Z.
The band has yet to come up with a name for the new album but Gonzalez said his bandmates are thinking hard about it.
"We want something meaningful, you know, it's our first album," he said.
The album is expected to be in stores by next spring.