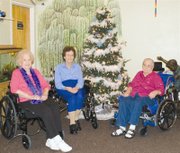 Who better to ask than an elder living in a care facility what an ideal gift for Christmas would be for an older person? And when they answer, you just might be surprised.
Hillcrest Manor elder Helen Price says some of her best holiday memories aren't about the gifts she received, although that's certainly a pleasant thought. She says she simply best recalls "the family being together, sharing gifts...that's what Christmas is all about."
Price is particularly fond of childhood holiday memories with her parents, who immigrated from Russia in the early 1900s. Price says she enjoyed the spirit of love and anticipation growing up. "At that period of time it was being with my parents...waiting for Santa Claus to come bring presents down the chimney," she says with a smile. "You always wondered, 'Is he going to come out black and dirty with soot'?" When she got married and had children of her own, Price enjoyed creating new family memories.
"In your lifetime, you have so many good Christmases," says the elder.
Elder Dorothy "DeeDee" Looney has special memories of Christmas, too.
"My twin's and my birthday is on Christmas day," she says. "So we got double presents and mother always made us a cake. We always had a special time."
When asked what ideal gifts would be, Looney quips, "Hearing aids that work and glasses so I can see? A good right leg so I can shake a leg?"
Price said, "Love. And that doesn't cost a thing, that's what they can get us."
Looney agreed. "Love anytime! That's what makes the world go 'round. And encouragement."
Both women believe in the giving and receiving of encouragement and support. "If someone doesn't have a smile, give 'em one," says Looney. "A smile goes a long way."
For those unable to see their loved ones in a care facility on Christmas day, Hillcrest Manor Administrator Mary Arthur has some suggestions.
For men, she said warm socks and "masculine" afghans. She also suggests aftershave. "Men love to smell good," she said.
For women, Arthur suggests afghans, perfume, lotion, jewelry, clothing or a trip to the beautician.