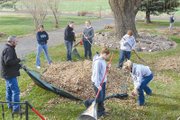 Local 4-H students from the Grow 'Em and Show 'Em Club got a real-time lesson in community service and helping one of their own recently.
The 4-H'ers trekked to Outlook to help an elder, Marjory Wright, who has strong ties to the club.
"Her nieces and nephews were in Grow 'Em and Show 'Em back in the 1950s," said the club's leader, Gayle Hays, adding that the club is the oldest one in the valley that's still in existence and is also famed astronaut Bonnie Dunbar's alma mater.
Hays said when Wright needed help, she knew where to turn. "She approached one of our club's members and we agreed to (help) her."
The 4-H'ers raked, pruned, dead-headed, picked up pine cones and cleaned out flower beds for a few hours, said Hays. Then, she said, "The guys packed out the debris on a tarp."
At the end of the day, Hays said, "She gave us cookies and hot cocoa."
Hays said the kids' good deed is the club's annual community service project. Service projects in the past have included hosting a petting zoo and assisting a feed store with its grand opening. Community service projects are done "at least once a year, if not more," she said.
She said the group's efforts to help Wright help instill a sense of service to those who've been involved in the club for many years.
"This is three, four generations into this club and it's still going," she said. "I think it's awesome."