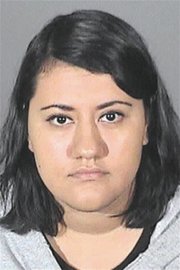 Sunnyside fugitive Virginia Perez will not be issued bail as she waits to be extradited back to Washington state.
Lt. David Pixler of the Southgate Police Department told the Daily Sun News that bail is never granted in connection with an extradition case.
Perez was picked up yesterday morning when officers from the Southgate Police Department and agents of the U.S. Marshal Service went to a house in Southgate where they believed Perez was at to serve an arrest warrant.
Pixler said once officers were at the house they recognized Perez and took her into custody.
Perez will soon be transferred to the Los Angeles County Jail where she will be prepared for extradition. Pixler said if Perez decides to fight extradition back to Washington state then it will be up to Yakima County prosecutors to go to California and convince a judge she should be returned.
Perez is accused of five counts of felony theft. She is alleged to have stolen $11,100 from two prisoner accounts at the Sunnyside jail when Perez worked as a receptionist.
Perez began working for the Sunnyside Police Department in May of 2007 and was fired Sept. 19, 2008 after city staff noticed inconsistencies in the accounts.
After nearly a year-long investigation into the missing money prosecutors presented their case against Perez to a Yakima County Superior Court judge on Sept. 3, 2009. A warrant for her arrest was issued on Sept. 8, 2009.
Perez, 21, was paid a yearly salary of $31,656 by the city of Sunnyside prior to her dismissal.
More like this story