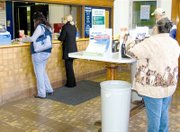 Jean D. Culver, 87, a long-time Sunnyside resident passed away Wednesday, Dec. 2, 2009, at Summitview Healthcare Center in Yakima.
She was born July 20, 1922 in Kansas to Artie Lee and Mae (Sutton) Sphar. She received her early education in Kansas and later moved to Sand Point, Idaho.
She with her family later moved to Sunnyside as they followed agricultural jobs.
She married Jess Culver on Nov. 10, 1939 in Idaho Falls, Idaho. Following their marriage, they made their home in Sunnyside.
Jean owned and operated a custom sew shop she called "Jean's Sew and Sew."
She enjoyed cooking, gardening, camping and fishing.
She cherished time spent with her family, especially getting her entire family together for Christmas.
She is survived by her two daughters, Joanne Copenhaver (Clint) of Mabton and Karen Trefry (Bill) of Yakima; one son, Richard Culver (Wendi) of Yakima; numerous grandchildren, great-grandchildren and great-great-grandchildren; and two brothers, Bob Sphar and Dale Sphar (Jo).
She was preceded in death by her parents; her husband; her son, Lynn; and two sisters.
Graveside services will be held Monday, Dec. 7, 2009, at 10 a.m. at Lower Valley Memorial Gardens in Sunnyside, followed by a memorial service at 11 a.m. at Sunnyside Grace Brethren Church.
In lieu of flowers, donations can be made in Jean's name to Living Care Development Department Memorial Fund, 3801 Summitview Avenue, Yakima, WA 98902.
Those wishing to share their memories or sign Jean's online memorial book may do so at www.funeralhomesmith.com
Smith Funeral Home in Sunnyside is in charge of arrangements.
More like this story