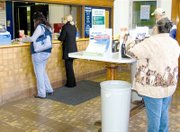 Plan ahead and be prepared is the advice of the Sunnyside Post Office when it comes to sending mail to loved ones during the Christmas holiday.
Christmas is just three weeks from today, and deadlines are already looming. For example, the deadline to ship priority mail or first class letters and cards to the military is in just one week, Dec. 11.
Marilyn Mears is a clerk with the Sunnyside Post Office, and she said planning ahead for holiday mailing is key.
"They should have it ready when they get here, sealed and addressed," she said of the long lines for holiday mailing.
For those shipping overseas, Mears cautions they'll need to have filled out customs forms in advance. The forms are available at the Post Office.
There are also do's and don'ts when it comes to securing that Christmas parcel. Mears said packages for mailing should not be sealed with masking or duct tape. String or rope is also a no-no as it can tangle with the Postal Service's equipment.
The ideal material to secure a package, she added, is to use strapping or cellophane tape, both of which are available at the Sunnyside Post Office.
If you want to add that personal touch and gift wrap the parcel you're shipping, Mears says make sure it's well sealed. "They need to tape the paper down real well or it could tear off and then the address gets lost."
Other Christmas mailing deadlines to keep in mind include:
Mail to the military via express mail has a deadline of Dec. 18 in order to get it there before Christmas.
Within the U.S., there's a bit more time to get those cards and packages in the mail in time for Christmas, but not much. The cut-off date for first class and priority mail is Dec. 21. The absolute latest date to get something in the mail for Christmas is via express mail by Dec. 23.
Those wanting to send Christmas greetings via parcel post, though, only have until Dec. 16 if they want to ensure it arrives before Dec. 25.