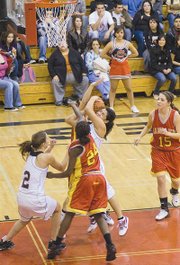 The Sunnyside High School girls basketball team gave the visiting Kamiakin Braves everything they could handle this past Friday night but fell short in a 65-50 loss.
Still, Sunnyside Coach Eric Berg was very pleased with his team's effort, noting the Lady Grizzlies only scored 50 or more points four times last year, when Sunnyside averaged 38 points a game.
"To score 50 points, that's something to look forward to," he said.
Kamiakin was able to build a 15-10 first quarter lead and extend that to an 11-point lead at halftime, leading 33-23. The Braves had a quick scoring burst at the end of the second quarter.
"Turnovers hurt us," Berg said. "They scored 23 points off our turnovers."
Another thing that hurt the Lady Grizzlies in the first half was free throws. Sunnyside had 16 opportunities at the charity stripe in the first half and converted only eight shots.
Sunnyside played better in the second half, especially when it came to turnovers and free throws. The Grizzlies were also more consistent in the second half.
Sunnyside outscored Kamiakin 15-14 in the third quarter and then cut the lead to just six points in the fourth. That's when the Braves took over, outscoring the Grizzlies by nine points down the stretch to seal the win.
Sunnyside was led in scoring by Sarasa Partida with 14 points. Ruby Herrera added 12 points for Sunnyside and Sam Wright dropped in 10 points. Destiny Maya contributed seven points for the Grizzlies and Jessie Robert finished with six points.
The Grizzlies grabbed 34 rebounds in the game and were led by Robert, Michelle Galvan and Herrera, who each pulled down six rebounds.
Sunnyside shot 59 percent from the free throw line, going 16-for-27. The Grizzlies were 16-for-44, or 36 percent, from the field.
The Braves were led by Khadidja Toure, who drained 15 points on the night on 5-for-10 shooting from the floor. Madi Meyer pumped in 13 for the Braves and Jori Skorpik added 11. Breann Feser had nine points for Kamiakin. Teammates Brianna Brannan and Kaylee Nelson each contributed six points and Courtney Nelson closed out the scoring with five points.
The Braves were 11-for-15 from the free throw line and 26-for-68 from the field.
"I was very pleased with the effort the girls gave and with their execution," Berg said. "We still need some more work on our defense. Right now we're working with a four-guard line-up. We're small."
Sunnyside (0-1) will travel to Grandview on Tuesday, Dec. 8, to take on the Greyhounds at 5:45 p.m.