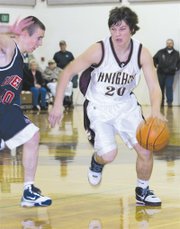 A win is a win is a win, but the winner doesn't always walk away happy.
Such was the case last Friday evening with the Sunnyside Christian Knights. Despite coming away with a 56-39 victory in their season opener, the Knights walked off their own court knowing they were indeed fortunate.
"We have to value the ball much better," Sunnyside Christian Coach Dean Wagenaar said following Friday's game against the visiting Liberty Christian Patriots.
Because of the 24 turnovers his club committed, Wagenaar said valuing the basketball will be the focal point of each practice session this week.
"It's not going to be about X's and O's in practice this week," he said, explaining he'll simulate high pressure game situations with 5-on-7 or 4-on-6 drills.
Wagenaar said taking care of the ball was a problem for his team last season, too, but with many of the same players back this year he's hoping that quandary will be resolved a bit quicker this time around.
Of the 24 turnovers committed by the Knights last Friday, eight came in the first quarter when the visiting 2B Patriots forged a 15-11 lead. Liberty Christian's Brett Dustin was the prime beneficiary of those first quarter gaffs, as he dropped in 10 of his 11 points in the opening stanza, three buckets coming on breakaways that immediately followed a turnover.
Coupled with the fact that Sunnyside Christian wasn't hitting a lot of its shots, the Patriots had an opportunity to break away by a big margin in the opening half. The visitors, though, went even colder with their shooting touch, getting outscored by a 16-3 margin in the second period to fall behind 27-18 at intermission.
Tim DeVries led the balanced scoring attack for Sunnyside Christian in the second quarter, popping in five of his 13 points that period.
Neither club could get the kinks worked out after halftime, as both teams continued to look ragged at times. In the end, however, it was the Knights prevailing, thanks to some improved shooting. Sunnyside Christian ended up making 12-of-16 from 2-point range after intermission to pull away for the 17-point margin of victory.
The top scorer for the 1B Knights proved to be 6'6" Steven Broersma. He dropped in a game-high 16 points. DeVries and Kevin DeJong each added 13-point efforts for the winners. Coming through with seven points apiece for the Knights were Trevor Wagenaar and Ryker Van Belle.
Defensively, Wagenaar said his team didn't perform up to expectations. "We weren't loose and relaxed. I thought we played too rigid," he said. The one exception might have been the play of Van Belle, who picked the pockets of the Patriots for a game-high four steals.
Sunnyside Christian returns to the court this coming Friday. The non-league game will be played at 2B White Swan.