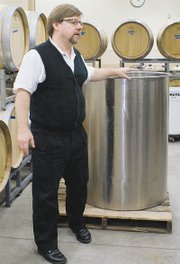 GRANDVIEW - After months of having no takers, the Grandview Chamber of Commerce finally has a leader to take the helm as president come 2010.
Grandview's Brad Smith, co-owner of Cellar Door Consultants and instructional technician at YVCC's Grandview ag department, has been selected to serve as president.
Smith's forte is marketing, web design, graphic design, wine label design and creating business plans.
"We do press releases, communication tools," said Smith. "We do a newsletter for a number of wineries. We do digital design and print work, both in-house and out-sourced."
Business, he said, grew from working for just a couple wineries to working for many, as well as a few restaurants, too.
Smith said he was approached about serving on the executive chamber board in 2010. He was no stranger to its basic operations, as he had previously served as a board member and had resigned mid-2007 because his new business was booming. "I was really, really busy with that."
Smith now feels he can volunteer his time to contribute to the chamber's growth and future goals it wants to accomplish, like restructuring the entity's focus and emphasis.
"They want to do some rebuilding and they wanted someone with entrepreneurial experience, so I got to know what the needs were," he said. "I really got to understand where things were at and what the goals are."
Smith said he agreed to serve, then, "They threw my name in a hat at a general meeting and next thing you know..."
He said one of the goals for the chamber is to have an important role in the revitalization of downtown, to communicate with businesses during the transition and "strategize and help make that as painless as possible for the business owners."
After the first of the year, the chamber will have a new website, too. "That's my contribution to the chamber, to assist with some of the technical things." The new website address will be www.visitgrandview.org.
"I think you'll see a greater emphasis on membership and an increase in the diversity of the organization, both on the board and in the membership," Smith added.
He said the chamber must now mull what its value really is to those who are members. He wants it to be a business network that creates business opportunities. He also wants to see tourism opportunities increase.
"There are a lot of tourism opportunities and opportunities for businesses to benefit from tourism," he said. "We haven't done a lot here in Grandview to show people what we have to offer."
He said one idea for potential growth is creating a system where chamber of commerce membership can be extended across the Prosser, Grandview and Sunnyside chambers. "Many of the business members are members of at least two out of the three, and some are members of all three."
He said he feels the chamber has gained a reputation for focusing on fundraising events to keep the doors open and the office staffed.
"Any type of event we're doing should benefit the business community, be getting the word out about what businesses are here and what they have to offer," Smith said.
Even the structure of the board will change, featuring four executive board members (the president, vice president, secretary and treasurer) and an at-large board that Smith describes as being comprised of people who want to help guide where the chamber is going and contribute to that process through volunteerism.
He said leadership structure will change, too. In the past, the president could serve for many years. That's not the case anymore, he said. Now, the president will serve a year, then serve on the board in the capacity of immediate past president. The vice president will serve as president after a year of service as the veep.
"Basically, you end with the past president, president and vice president all working together in terms of mentorship and vision," Smith said.
The newly elected vice president is Ray Navarro of Gemstones Leisure Hall and longtime Grandview resident Dottie Cervantes will serve as treasurer. No secretary has been selected as of yet, he said.
Overall, he said of the Grandview Chamber of Commerce, "We'd like to become more of a model for good business than perhaps we've been in the past."