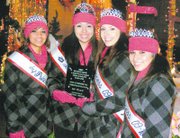 The results are in from the 21st annual Sunnyside Lighted Farm Implement Parade held this past Saturday.
A total of 57 entries were submitted.
The Alder Creek Pioneer Picnic claimed top honors among animal drawn entires, followed by Broken Spur Rodeo and Jose F. Rodriguez.
Among modern farm equipment entries, Schab Farms was first, followed by the city of Sunnyside and Kilian Farms.
In the non-commercial organization/service club category, Critter Cab/Manning dog training was first, followed by the Sunnyside Fire Department and People for People.
Earning awards in the old farm equipment/tractors category were KT Cattle Company in first place, followed by Larry Oswalt and Prins Dairy.
In the category of non-commercial Christmas floats, the Miss Cinco de Mayo Court's entry was first, followed by the Jaquish/McGhan/Heckert float and the Prosser community float.
Taking the top prize in the commercial farm equipment category was Oasis Drilling, followed by Les Schwab and Elite Towing and Recovery.
Commercial Christmas float entries were led by GS Long, followed by Granite Northwest and Yakima Transit.
In the youth division, Sunnyside Fusion Tech claimed first place honors, followed by Panda Bear Daycare and Sunnyside Christian FFA.
Leading the way in the antique cars and trucks division was Dennis and Diana Blumer, followed by Valley Hills Funeral Home and Doug Pool.
The Sweepstakes Award went to Burrows Tractor.