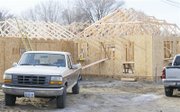 Two new housing starts led the way as building starts topped $400,000 in November in the city of Sunnyside.
Sunnyside building officials issued 20 permits during November for projects with a total combined valuation of $411,299. Sunnyside city coffers netted $6,938 in permit fees for the month.
The largest of the two new homes, and the largest for the month of November, is a $181,716 house at 1617 S. 13th Street. Permit fees for the 1,727 square-foot house were $2,401.
The other new home receiving a thumbs up from city officials is a 1,670 square-foot house at 1213 S. 13th Street valued at $116,183.
Three roofing projects were approved in November with a combined total valuation of $37,300, netting $669 in permit fees.
The largest re-roof okayed last month was a $14,000 project at 301 Warehouse Ave.
Another significant project approved in November was the installation of a new monument sign at 1723 E. Lincoln Ave. The sign is valued at $44,000, with Sunnyside city coffers netting $967 in permit fees.
Sunnyside officials conducted a total of 87 inspections in November. Of those, there were 57 building inspections conducted along with 24 plumbing inspections.