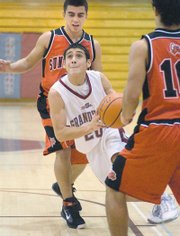 GRANDVIEW - Lower Valley rivals Sunnyside and Grandview met last night in a non-league boys basketball match-up, with the 2A Greyhounds using an 18-11 fourth quarter run against 3A Sunnyside to pull out a 56-46 win.
"Overall it was a back and forth game," said Grandview Coach Roy Garcia. "Our quickness gave them a lot of trouble and our guards were all over the place."
Grandview opened a 16-10 first quarter lead on 6-for-11 shooting from the field. Sunnyside stormed back and took a lead in the second quarter, only to have it erased at the buzzer when a Grandview player hit a half-court shot, giving the Greyhounds a 24-23 halftime lead.
"We did a pretty good job at times of getting the ball to open people," Sunnyside Coach Ron Rowe said. "We just weren't able to convert."
What helped the Grizzlies keep pace with the Greyhounds was rebounding. Sunnyside held a 27 to 11 advantage on the boards at halftime.
Grandview changed up strategy from there, Garcia noted. "Part of our strategy was that every chance we got we attacked the basket," he said.
The change paid off as Grandview then out rebounded Sunnyside 21 to 16 in the second half.
The third quarter was fairly even for both teams, but Grandview did add to its lead and headed into the final stanza up 38-35. In part that was thanks to Grandview's Adrian Reyes, who jumps started Grandview's attack in the second half with 10 points and a pair of steals.
Midway through the fourth period the Greyhounds opened a seven-point lead on their way to a 10-point victory.
"We got in a hurry with our passing and ball handling," Rowe said.
This caused Sunnyside to commit some unforced turnovers, which the Greyhounds took advantage of.
"Sunnyside's always going to be in the game," Garcia said. "It's a matter of keeping our composure and making sure we contest every shot."
Grandview fielded a balanced attack, with four players in double figures, led by Adrian Vela's 14 points. Christian Schrank added 12 for the Greyhounds, followed by 10 points each from Reyes and Tony Vela.
Schrank led Grandview in the paint with nine rebounds.
Sunnyside was led by Alfredo De La Barrera, who dropped in 24 points and grabbed a team-high 15 rebounds.
"Alfredo gave us some problems," Garcia said. "He knows how to use his body."
Israel Manzo added seven points for the Grizzlies. Jordan Esqueda had four points and grabbed eight rebounds. James Sanchez, Andrew Daley and Jacob Bos each added three points.
Grandview (1-1) opens up league play this Friday at home against Wapato. Garcia said the first two non-league contests have been a good preparation.
"The two pre-season games gave us a good measuring stick," he said. "Squalicum and Sunnyside both provided us a challenge with quickness."
Sunnyside (0-2) will host Chiawana on Friday, Dec. 11, at 7:30 p.m.