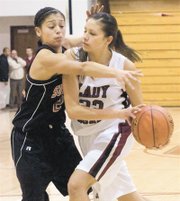 GRANDVIEW - A horrible first quarter, combined with poor second and third quarters, proved to be the downfall for the Sunnyside Lady Grizzlies last night, Tuesday, as they fell to Grandview 47-37.
Sunnyside Coach Eric Berg summed it up with two words - cold shooting.
"Two of our best shooters, Destiny Maya and Sarasa Partida, combined for just one point in the first half," he said. "We started the game out going 0-for-7 from the free throw line. Our first point came with 1:30 left in the first quarter, and that was a free throw. We didn't get our first bucket until under a minute to go."
This allowed Grandview to get off to a quick start and the Greyhounds built an 11-3 lead after one quarter.
The Greyhounds held Sunnyside to just 28 percent shooting. This was helped in part by Sunnyside's cold shooting. Berg said his team missed easy fast-break lay-ups and put backs.
"It took us a while to warm up," he said.
Grandview led 23-12 at halftime and then added to the lead with a 12-7 third quarter effort.
"We played an up tempo game and played our style of basketball coming out of the gate," Grandview Coach Paul Van Pelt said. "We had a let-down on defense in the fourth quarter. We held them to single digit scoring in each of the previous three quarters, while we scored in double digits in all four quarters."
Sunnyside did warm up in the fourth quarter, outscoring Grandview 18-12, but by then it was too late.
Grandview was led by Patyon Parrish with 15 points. She also collected 14 rebounds.
Teammates Jessica Lopez and Gabby Montelongo each had eight points for the Greyhounds.
Sunnyside was led by Maya and Partida, who both overcame slow starts to finish with 10 points each. Hannah Marro added five points for the Grizzlies.
Samantha Wright led Sunnyside with six rebounds. Partida grabbed five rebounds for Sunnyside.
"We played much better tonight," Van Pelt said. "We still have a lot of work to do in order for us to be competitive in the CWAC league. The girls came out focused and they were ready for the challenge."
Although Berg didn't like to see his team shoot so coldly, he was happy with his defensive effort.
"One of our team goals this year is to keep teams under 50 points," he said. "We did that."
Sunnyside (0-2) will next host Chiawana this Friday, 5:45 p.m. Grandview (1-1) will host Wapato on Friday, Dec. 11, at 5:45 p.m.