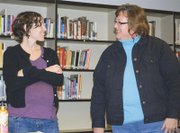 GRANDVIEW - Community members, parents and youngsters attended a youth suicide prevention seminar at the Grandview High School library Tuesday.
Speaking to those interested in how to prevent youth suicide was Youth Suicide Prevention Program Field Coordinator Celisa Hopkins.
She provided the background of her organization, which was founded after the 1995 suicide of Trevor Simpson.
Hopkins said Simpson's parents found his death was preventable and formed the Youth Suicide Prevention Program to help others learn about the warning signs of adolescent suicide.
"Stress is a factor in many youth suicides," said Hopkins, stating stress is the way a person's mind and body react to changes, challenges and threats.
People, she said, deal with stress differently. "We all have stress...some good, some bad."
For youngsters, said Hopkins, there are many factors that can cause stress, including peer pressures of many kinds, homework, frequent moves and familial upheaval.
A recent health survey conducted in Washington state concluded youth are stressed with other issues, as well. They include physical changes of the body, negative thoughts or feelings, problems with friends, separation or divorce, trouble with family members, injury or illness and too many activities.
There are signs and symptoms to look out for in order to determine if a youngster is overly stressed.
Hopkins said extreme behavior is one of those signs, as is a youngster's withdrawal.
She said there are management skills for dealing with stress factors. They include avoiding alcohol and drugs, decreasing negative self-talk, having a support system, exercising, eating and sleeping well.
"Some other tools for relaxing include physical activity, listening to music, drawing, reading and writing in a journal," said Hopkins.
She said watching television and gaming are not good de-stressors. "They are just a distraction and a way to isolate the individual."
Hopkins said it is especially important for youngsters to learn how to communicate properly. "You see kids in the same room texting one another rather than talking to each other," she stated, saying connecting on a personal level is a way in which youth can gain interpersonal skills.
Those interpersonal skills and the bond between people are what provide an individual a sense of security.
Youngsters need to be able to identify their emotions and learn to problem solve, said Hopkins. She said learning to tolerate stress is another skill many youngsters need to have.
Adults, she said, have the power to help youngsters. They can watch for "overloading" and acknowledge the problems and feelings the youngster might be experiencing. "Don't minimalize their problems," Hopkins advised.
"Give them reassurance and support."
She said adults can model coping skills and teach youngsters the skills need for decision making and problem solving.
If a youngster's problems seem to be overwhelming and depression is suspected, Hopkins said it is advisable to seek professional help.
There are resources for helping youngsters, including school counselors, family physicians and the Youth Suicide Prevention Program hotline (1-800-273-TALK).
Hopkins said there are four factors to consider when deciding the severity of a youngster's situation. Those factors include biological changes, sociological change, psychological differences and existential differences.
Biological changes can include physical illness, disability, puberty, sexual orientation or a family history of depression. Friendships and break-ups fall into the sociological factors, and a youngster exhibiting negative self-talk and poor distress tolerance provides psychological factors to consider.
"Existential factors can be being bullied or a sense of hopelessness," said Hopkins.
"You can intervene, you can show you care, ask the question 'Are you thinking about suicide?', call for help if the individual indicates they are thinking of suicide," said Hopkins.
Her organization also has tips available on its website (www.yspp.org) for those wanting to know the warning signs and how they can help prevent youth suicide.
"Youth suicide is preventable," Hopkins re-iterated.
Jennie McGhan/Daily Sun News
Youth Prevention Program field coordinator Celisa Hopkins (left) is introduced by Grandview School District's Debi Foster at a seminar provided to community members Wednesday.