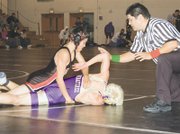 Three consecutive losses doomed the Sunnyside Grizzly wrestling team's hopes of victory in a 40-24 home loss to Wenatchee last night, Tuesday.
Sunnyside led 15-6 after the first five matches, but won just two matches the rest of the way, recording five wins in 14 matches.
"You try to win more than you lose in a dual match," Sunnyside Coach George Paulus said. "When you win five and lose nine you won't be very successful."
The evening started out with two wins for Wenatchee, followed by three consecutive victories for Sunnyside.
Getting the Grizzlies on the winning track was Jose Barajas at 285 lbs., who pinned Devin Piemat in 3:37. That victory was followed by Sunnyside's Jaime Gonzalez (103 lbs.) pinning Jeremiah Johnson in just 50 seconds and Nathan Gonzalez (112 lbs.) decisioning Wenatchee's Drew Hunt 6-3.
Paulus said the Grizzlies lost the next three matches, in which Sunnyside had anticipated competing well.
"That was the turning point. That put the nail in our coffin," he said. "That sunk our ship, our goal was to win two of those three."
Sunnyside's only two wins after the three early victories were by Isidro Ramirez (135 lbs.), who pinned Nate Heinle in 1:30, and Emmanuel Tejeda (140 lbs.), who decisioned Austin Roelle 8-6.
Paulus said Sunnyside's weakest area of performance in the CBL match was in conditioning.
"Conditioning is a choice, to me some of our guys are cruising," Paulus said.
Looking ahead to a match with 4A Pasco this coming Thursday, he added, "Our goal is to try to change attitudes and get some people in a competitive mode."
Paulus said some of the problem stems from the fact it's still early in the season and some of his wrestlers think they have a lot of time to get on track. "It's a race to the end," he countered. "You don't have time to sit on your heels."
Paulus also gave credit to Wenatchee.
"They're a good team, they won a 16-team tourney last week and they have five State returners."
Speaking of State, Paulus said the slow start to this season is similar to that of last season.
"In a positive note, the same thing happened to us last year and we rallied back and ended up fifth at State."