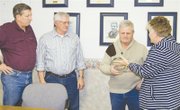 Work on the Port of Sunnyside's dewatering facility at its treatment plant is progressing at a rapid pace, port commissioners learned at their December general meeting this past Monday night.
That's according to Jay Hester, the port's property and development manager.
Hester asked commissioners to approve a change order request regarding the work at the facility.
Hester told commissioners that work is set to commence this week in constructing a building for a new screw press.
Due to unforeseen circumstances, the contractor hired to build the building is asking for an extension. The building was to be completed late next month.
Commissioners will consider the request at tonight's meeting.