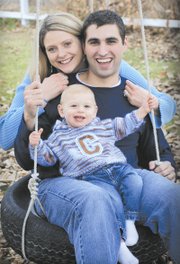 From the tender age of 15, Marjorie Campbell knew she wanted to be a missionary. Just what any hardships a missionary might encounter is probably foreign to a 15-year-old but Marjorie felt God tugging on her heart.
"I had my doubts, but this was too big," she said.
Over time she went on many mission trips to different parts of the world. Over time, these missions reaffirmed her commitment to becoming a missionary.
Her husband Jeremiah Campbell has pretty much the same story, except he didn't feel the call to missionary work until later. The youth pastor at the Sunnyside Assembly of God Church explained that he was a somewhat cocky jock in high school and didn't give it much thought.
But that changed when he was 18, when he felt the calling. Soon he went into ministry.
"I knew I was supposed to be involved but I didn't know what, yet," he said. "I prayed for direction."
During the couple's early months together, neither knew what direction they should take. Marjorie still had her heart set on becoming a missionary, but Jeremiah wasn't sure. They had talked about going to Bolivia to do their missionary work, but it was just that, talk.
Both were still in college at the time and Jeremiah found himself in a car with some buddies. They were teasing him about his girlfriend and one said that he and Marjorie would end up getting married and become missionaries to Bolivia.
The comment startled him. Jeremiah had never mentioned anything to his friends about Bolivia.
Halfway across the state Marjorie was beginning her shift at the Space Needle in Seattle. A dentist was soliciting supplies for a coming trip to a third world country, where he wanted to pass out supplies and provide some help.
He had put up a sign that read, "Please help the children of Bolivia."
Marjorie didn't need much more of a sign than that. They discussed with each other what had happened to them, the sign and Jeremiah's friend's prediction It was clear to both of them what they needed to do.
That's been about six years and the Campbells are closer to moving to Bolivia than ever before. Jeremiah is a Spanish teacher at Grandview High School and his wife was teaching at elementary school before the couple had their child.
During a recent mission trip the couple met some people who told the couple they are ready to move to Bolivia. They've been preparing ever since.
The couple will spend two years in the city of Cochabamba, a place where three children on average are abandoned daily. The prisons are full of children who come and live there with their parents. Once the child is older, say around 10, they are forced to leave.
Partnering with missionaries Rich and Sandee Farthing at the Bolivian Hope Center, the Campbells will provide meals and education to nearly 500 children. They will also work at the Bolivian Hope Center.
They both just want to make a difference in the lives of these children.
But to do this the Campbells must raise money for their trip to support them for the two years they will be in Bolivia doing God's work.
The amount they are trying to collect is $43,000 so they can leave by next August. The Campbells plan on selling their house in Grandview and he will quit his job at the high school.
Through family, friends and churches they are receiving the donations needed to make this happen. For anyone wishing to help the Campbells with their cause, they can donate to:
AGWM
Account #2006120
1445 N. Boonville Ave.
Springfield, Mo 65802.
The idea is very simple to them.
"It's to be obedient to what God wants us to do," Jeremiah explained.