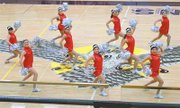 RICHLAND - The Sunnyside High School dance team, the Grizzliettes, took third place honors in the pom division at last Saturday's competition at Hanford High School.
The Grizzliettes scored 211 points, which is good enough to qualify the team for Districts.
Sunnyside Grizzliettes Coach Melodie Griffin explained that there are two criteria for advancing to Districts. A team must score 195 points or above in a competition and perform that routine at least twice.
Sunnyside will compete at a dance competition on Jan. 9 at West Valley High School. There the Grizzliettes plan on competing in the dance and hip-hop categories.
The Grizzliettes will perform their pom routine at their own competition, which Sunnyside will host on Jan. 30. The Grizzliettes will also compete in the dance and hip-hop categories at their home competition, as well.
Griffin said she was a little surprised by how well her team did last Saturday. She said the team was forced to make changes the day before and on the day of the competition.
"The changes were effective and for the best," she said.
Two sick dancers were pulled from the competition, which meant there were formation and transition changes that needed to be done.
The Grizzliettes performed the pom routine at last Friday's home basketball game and Griffin saw some need for improvements. She said the team replaced three eight-counts in the middle of the routine with new moves that were more visually appealing.
"In pom it's all about the visual," Griffin explained.
Individually, Grizzliette Kelley Bridges took first place honors last Saturday in the advanced drill down competition and Jorge Arciga won the crazy dance competition.