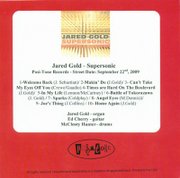 It's hard not to think of baseball or church when you hear an organ playing, but New York-based jazz organist Jared Gold does the instrument justice with a retro twist on his new CD "Supersonic."
The results aren't always super, as with his original composition, "Battle of Tokorazawa," which crosses the line from spirited to frenzied. It's a bit over the top.
Though his original songs may falter at times, Gold is golden on well-done organ renderings of classic songs ranging from Lennon/McCartney's "In My Life," to "Sparks" by Coldplay and the always smooth "Can't Take My Eyes Off of You."
Gold is backed by just two musicians on the 10-song CD, Ed Cherry on guitar and McClenty Hunter on drums.
To his credit, Gold doesn't just replay well known songs note for note.
"In My Life," for example, features a funky organ groove with a nice guitar slap by Cherry.
"Welcome Back" by John Sebastian, on the other hand receives a jazz riff and rocking organ solo.
Gold does do a nice turn here and there as a composer, chiefly on the 70s inspired "Times are Hard on the Boulevard."
"Supersonic" ends with another Gold original, "Home Again," which offers a nice bookend to the CD's opening song, "Welcome Back."
"Home Again" has a sense of longing and Gold does some good composing work as his organ floats above a driving crescendo of guitar and drums.
It's been awhile since I've heard an organ featured so prominently on an album other than a Gospel or Christmas compilation.
But it was a nice change of pace and it's good to note Gold plays an actual organ, not some Casio synth-crazy keyboard.
That also gives "Supersonic" somewhat of a retro feel of late 60s rock music when artists like Procul Harum and Stevie Winwood made a living tickling the soft ivories.
More like this story