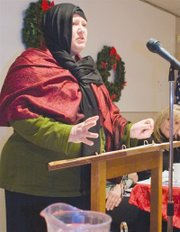 PROSSER - Sunnyside's Sheila Hazzard took on the persona of Mother Mary this past Monday at the Lower Valley Christian Women's Club meeting, detailing a fresh perspective of Christ's birth in observance of the Christmas season.
Hazzard began with Mary's perspective as a young maiden in love with Joseph.
"This affection I had for him was not a childlike love," said Hazzard as Mary, describing Joseph as a carpenter and artist who could take pieces of gnarled wood and make breathtaking jewelry boxes.
'Mary' told the audience about how commonplace arranged marriages were back then.
"When I became of marrying age, two men approached my father, neither one was Joseph," she said, adding that as she grew more discouraged, she prayed. Knowing that Joseph was too poor to enter into negotiations for Mary's hand, she herself appealed to her father and asked him to go speak with the carpenter.
"When my father came back, he announced to the entire household that Joseph was my betrothed!"
As Mary was tending the animals one night, she described being visited by an angel who told her not to be afraid, and that she would bear God's son.
"All of us maidens always prayed to Jehova that it might be so," she said, admitting that she had many questions and was "truly humbled."
Mary then relayed staying in the stable for some time after that, then finally telling her parents of the angel's visit the next day, despite her trepidation.
"If I was unmarried and with child, I would've broken God's law!" But, Mary had been promised God's love would see her through.
At first her father was outraged, but then he promised Mary he would speak to Joseph on her behalf. A confident Mary was hurt the next time she saw Joseph, whose warm eyes had become "cold."
"He wouldn't look at me," said a crestfallen Mary. "Then he shook hands with my father and turned and walked out. Days, weeks, months passed."
Heartbroken, but filled with God's peace, Mary went to help look after a relative. When she returned home, she was heavily with child. Soon, Joseph came for a visit.
"I think my head hit the ceiling, I jumped so high for joy!" Mary detailed how an angel had visited Joseph and he now was to marry her.
Soon, a tax decree ordered that Mary and Joseph return to the town of their birth: Bethlehem.
Mary made the trip, but it was an uncomfortable journey. When they did reach the city, all inns were full, but an innkeeper, eyeing Mary's condition, allowed the couple to stay in a manger.
That night, said Hazzard, "She (Mary) was able to hold her son and savior."
Said Hazzard, "God loves us more than we can ever fathom...God gave us the greatest gift, not just a Christmas gift, but the greatest gift of all.
"There's nothing commonplace about God incarnate! He conquered death and lives in heaven!"