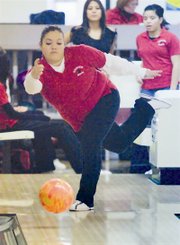 SHS Lady Grizzlies notch second victory
In head-to-head match-ups with Ellensburg this season, the Sunnyside High School girls bowling team is 2-for-2.
Led by senior Maleesha Maltos, the Lady Grizzlies rolled over visiting Ellensburg Thursday afternoon, 3-1. Sunnyside bested the Bulldogs by a 3-1 score two weeks ago, too. The two teams will meet a third time this season on Jan. 5. That match, like yesterday's, will be at Sunnyside's Valley Lanes.
Maltos was the lone bowler yesterday to top the two-game, 300 series plateau. She tossed a game-best 158 in the opener Thursday, powering the Lady Grizzlies to a 686-657 victory in the first contest.
Backing Maltos up in the opener were teammates Amanda Villarreal (144), Marissa Martin (135), Ileana Martinez (131) and Nataly Alvarez (118).
The top scorer for Ellensburg in the first game was Lexi Poyer with a 153.
Despite a match-best 159 by Maltos in the second contest, Sunnyside was upended by a 654-603 score in game two. Leading the Bulldog charge in their game two win was junior Emily Haberman with a 142. The rest of Ellensburg's individual scores that contest ranged from a 116 to a 137.
Besides Maltos's 159 in game two, Sunnyside had individual efforts of 132 from Martinez, a 117 by Alvarez, a 105 by Villarreal and a 90 by Martin.
The Lady Grizzlies forged a 2-1 lead in the match by winning the first of the two Baker games, 125-124. Baker bowling requires each member of the five-girl squads to alternate taking turns throughout the 10 frames.
Sunnyside accounted for the final 3-1 score over the Bulldogs by winning the second Baker game, 131-101.
Yesterday's victory improved the Lady Grizzlies' overall record on the season to 2-4.
In JV action Thursday, Sunnyside and Ellensburg battled to a 2-2 tie, although the junior varsity Lady Grizzlies came out on top with total pin count, 1380-1353.
The Lady Grizzly keglers are back in action next Tuesday, Dec. 15, in the Tri-Cities against Chiawana High.