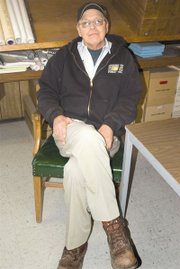 It's been a long time coming but for Dennis Duim the wait is almost over.
After 34 years of service to the city of Sunnyside Duim is stepping down, more than likely sometime this week.
For the past 20 years Duim has been working in the city's water department. The first job he had with Sunnyside, he recalled, was cleaning the sidewalks.
He remembered he started about the same time of year it is now and it was cold.
The city of Sunnyside hired Duim back in 1975 through a state grant the city received. Duim's job was guaranteed even after the grant money ran out and he's been here ever since.
In his 34 years of service to Sunnyside, Duim has worked in the sewer, the water and the streets departments.
Asked about changes to the way things are done in his 34 years and Duim points out the way the city reads its meters.
"We used to read the meters in the city by walking to everyone," he said. "It took about seven working days to do the whole city. Now it's done in one day."
He also pointed out that the city's wells are now all computerized and run automatically.
Duim isn't sure just exactly what he and his wife will do once he's retired. He considers himself a spur of the moment type of guy and doesn't like to make plans.
He does plan on spending time working on his hobbies, which include gardening, yard work and wood-working. He also hopes to do some traveling.
"I enjoyed my time here," Duim said. "I'll come back from time to time and visit with the guys. They're kind of like family."
The city of Sunnyside will say good-bye to Duim with a celebration slated for Wednesday, Dec. 16, from 2 to 4 p.m., at the city public works department, located at 1509 S. Sixth Street.