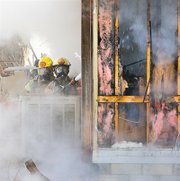 Yakima County Fire District #5 personnel were called out to three different first since last Friday.
The first fire was a home in the 3000 block of Sunnysid/Mabton Highway near Sunnyside just after 10:30 a.m. Friday.
A double-wide manufactured home was 75 percent involved with smoke and fire when the first fire trucks arrived. A passer-by noticed the blaze and phoned in the report.
The owners were not aware of the fire at first, but evacuated the building once they were alerted to the danger.
The fire spread to a nearby garage and vegetation surrounding the home was set ablaze, as well.
Poor visibility, icy conditions and other safety concerns hampered firefighters during the extinguishing of the blaze, but they were able to control the fire by noon.
It is believed a space heater in the bathroom started the fire, which caused an estimated $100,000 damage.
At approximately 3:15 p.m. that same day, firefighters responded to another structure fire in the 100 block of Arrowsmith Road near Sunnyside.
A two-story wood frame structure was involved and smoke was visible upon the arrival of fire crews. The homeowners were at home and reported smoke from the basement of the structure before calling 9-1-1 and evacuating.
Dute to limited visibility and limited ventilation, an extended control time was required to battle the blaze.
The fire was limited to the basement, and it is believed it originated in a basement bedroom due to an electric blanket.
An estimated $30,000 damage resulted from the blaze.
Yesterday (Sunday) a structure in the 600 block of G Avenue in Granger reportedly caught fire.
Yakima County Fire District #5 detailed firefighters to the fire, which involved a shop at the location. The building was completely involved in the blaze and two smaller outbuildings had caught fire, as well.
Two residential structures nearby were threatened and firefighters launched an aggressive attack on the blaze to contain the fire.
Minor heat damage reportedly affected one residential building. The overall property loss is estimated at more than $100,000 in addition to $70,000 valued for the structure loss.
No injuries resulted with the exception of some smoke inhalation to the occupant of the building.