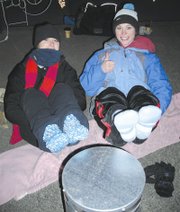 More than 30 Sunnyside High School Key Club students raised a total of just over $1,000 for Lower Valley Hospice during the club's annual freeze out event in Sunnyside this past Friday and Saturday.
SHS senior Kristen Wedam is the club's president, and she said a grand total of $1,025 was raised through the freeze out, which took place at the Centennial gazebo.
In addition, the Key Club students, under the guidance of SHS chemistry teacher Wayne Cone,filled the back of a Ford Expedition full of food and coats donated by local residents for St. Joseph's food bank.
Wedam praised the Sunnyside community for its support during the freeze out, which started at 4 p.m. this past Friday and ended at around noon Saturday. She said the freeze out ended up short of 24 hours because of the extreme cold and the fact that the club had reached its goal of $1,000.
Wedam noted that people stopped at all hours of the day, even at 3 a.m., to donate to the cause. She said that Guerra's Coffee employees came by and provided free cocoa and coffee to all of the students participating in the freeze out.
She added that James and Darla Van Corbach matched every hour spent by all the students combined with a donation of 50 cents per hour. All told, there were 32 people who participated in the freeze out with a combined service of 306 hours, resulting in a donation of $153 from the Van Corbachs.
Student Martin Saldana put in the most hours, serving 19 hours during the freeze out.
The results of this past weekend's freeze out was not only a success at topping the $1,000 mark - the 2008 freeze out raised $979 - but Wedam noted that two SHS students decided to join Key Club because they wanted to participate in the event.
"The community support was really overwhelming," said Wedam. "It's cool to see people step up. That's the Christmas spirit and our community really showed it."