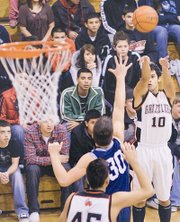 The Sunnyside High School boys basketball team used a stifling defense in the second half of this past Friday's game with Chiawana to pull out its first win of the season, a 57-42 victory over the Riverhawks.
Leading 34-28 at halftime, the Grizzlies limited Chiawana to just one field goal in the third quarter and only three for the entire second half.
"Our defense was consistent and our rebounding was strong at times," Sunnyside Coach Ron Rowe said of his team's play in the third quarter. "We did a much better job with our offensive ball movement. We broke down their zone and they went away from it."
First half play was fairly even on both sides. Sunnyside led 17-15 after one quarter and then outscored the Riverhawks 17-13 in the second quarter to take a six-point halftime lead.
Rowe said Sunnyside began to penetrate the Riverhawks' defense in the second half, which gave the Grizzlies a lot of good looks.
Sunnyside's offensive output declined a bit in the third quarter, scoring just 13 points, but the Grizzly defense limited Chiawana to five points in the quarter to extend its lead to 14 points.
A 10-9 fourth quarter was all it took for Sunnyside to walk away with the win.
Alfredo De La Barrera led Sunnyside with 16 points and six rebounds. Israel Manzo followed that with 13 points and three assists. James Sanchez added 11 points for the Grizzlies. Teammate Jordan Esqueda had nine points and four assists. Chance Graff connected for six points for the Grizzlies and Jacob Bos added two points.
Chiawana was led by Jordan Downing with 20 points. Lucas Graff finished with seven points for the Riverhawks. Miquiyah Zamaro finished with six points, Kyler DeWitt had five points and Stephen Walter added four points.
The Grizzlies outrebounded Chiawana on the glass, 28 to 22. Sunnyside also shot better from the field, going 21-for-52 compared with 14-for-50 the Riverhawks shot. Chiawana did fare better at the free throw line, connecting on 13-of-21. Sunnyside was just 8-for-18 from the charity stripe.
"It was good solid team play," Rowe said of his team's win. "We were able to keep them off balance."
Sunnyside (1-2) will host Prosser on Tuesday, Dec. 15, for a 7:30 p.m. game.