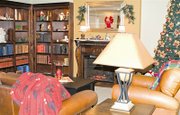 Sunnyside's Jon Nelson remembers the glory days when the Harrison Heights Apartments were built in 1951, and found the old building permits showing it took 10 months for the $190,000 complex to be constructed.
Nelson's easily put roughly $800,000 into restoring the building in the past five or so years.
"Back when I was growing up here, it was the place to live in Sunnyside...I basically wanted to bring it back to that," Nelson said, adding he thinks it's in better condition now than when it was first built.
And despite the money, Nelson said, "It's a labor of love."
Nelson not only added mounted security cameras and doors, as well as an exercise room, but he also replaced almost everything in the building, from the boiler to the outlets to the light fixtures. He even revamped each apartment's heating and cooling system.
Perhaps what's most evident at Harrison Heights is Nelson's natural talent for design, which is apparent in every entrance, as well as the library/lounge.
Nelson had the chance to show off his labor of love at an open house this past Saturday night, but he didn't need to in order to solicit new renters.
"I have apartments coming up in the spring and they're all rented," he said.