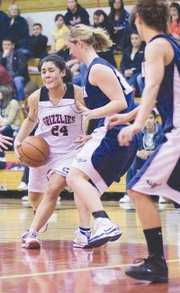 It wasn't pretty, that much is for sure.
The Sunnyside Lady Grizzlies ran into a buzzsaw this past Friday night when the Chiawana Riverhawks came to town.
"They were just bigger, stronger and faster than us," Sunnyside Coach Eric Berg said of the Chiawana team. "They are a very physical team."
Chiawana posted a 60-19 non-league win against the Lady Grizzlies on Friday, handing Sunnyside its third loss in a row.
Sunnyside had a hard time finding a good shot to take. The Chiawana defense was relentless, forcing the Lady Grizzlies into making bad decisions.
The Riverhawks led 15-2 after one quarter and 30-11 at halftime.
What hurt the Grizzlies so much in the first half was a lack of shots. Sunnyside was just 4-of-20 from the field in the first half. Chiawana, on the other hand, shot 14-of-40.
Further hurting the Grizzlies was the team's free throw shooting. Sunnyside shot just 25 percent (2-of-8) in the first half.
That's a problem for Berg. He said his team has averaged going to the line 23 times a game. Sunnyside's aggressiveness pleases him, the Grizzlies' performance at the line does not.
Berg said his team only averages nine made free throws a game.
"We spent a lot of time on Saturday working on our free throws," Berg said.
The second half was just as bad this past Friday. After scoring 11 points in the first half the Lady Grizzlies could only manage eight points in the second half. Sunnyside shot just 21 percent from the floor and 20 percent from the charity stripe in the second half.
Sunnyside turned the ball over 33 times in the game, compared with Riverhawks' 14 turnovers.
Sunnyside was led in points by Sam Wright, who dropped in six points and grabbed two rebounds. She was followed by Sarasa Partida and Destiny Maya, with five points each. Sammie Reyes had two points for Sunnyside and Hannah Marro added one point.
Chiawana was led by Sparks and Rivard, who had 13 points each for the Riverhawks.
Sunnyside finished 3-for-13 from the free throw line and shot 2-for-15 from behind the three point arc. Over all they were 7-for-34 from the field. The Riverhawks almost doubled the shot output for the Grizzlies, going 25-for-67 from the field.
Sunnyside (0-3) will host the Prosser Mustangs on Tuesday, Dec. 15, for a 6 p.m. game.