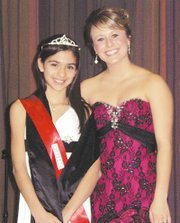 Sunnyside's first ever Holiday Princess Pageant went off without a hitch this past Sunday afternoon with 39 contestants vying for the title of queen in numerous categories.
The brainchild of SHS senior and previous Miss Sunnyside court member Audra Hays, the pageant drew an impressive crowd to the St. Joseph gymnasium.
"I'm very happy everyone turned out and I had so much success with it," said Hays, who used the pageant as her senior project. "It just helped build little girls' confidence."
The event ran smoothly, too. Among Hays' helpers was Miss Sunnyside program director Teri Alvarez-Ziegler. Her judges included those associated with the Miss Yakima County program.
In addition to the pageant, Hays had contestants donate three cans of food with their entry forms, and their family members each brought a can of food to watch the event.
Hays wants to see the pageant become an annual tradition, though next year she hopes to be enrolled in college.
"Hopefully I started something that someone can take on and make an annual thing," she said.
In the Baby Miss division, Anisa Torres was named queen. Nevaeh Ashley was named queen in the Tiny Miss division and Madison Pierce was named queen in the Mini-Miss division. Nevaeh Palomarez was named queen in the Little Miss division and Eternity Yanez is the crownholder for the Young Miss division. Claudia Pena is the Pre-Teen division queen and Alexandra Hays is the queen of the Junior Miss division. Gisselle Montes was named queen of the Teen Miss division and Amy Culver was named Queen of the Miss division.
Hays said all remaining contestants were named princesses and awarded sashes and crowns courtesy of Alvarez-Ziegler.