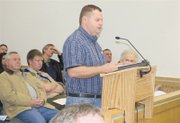 A petition being circulated by a group of Sunnyside citizens calling on the Sunnyside City Council to listen to findings from two investigations into workplace strife at city hall was given to Sunnyside Mayor Paul Garcia last night (Monday).
Jason Raines presented Garcia with a petition he said had 94 names on it.
Sunnyside city employees Pam Sandifer and Terri Rhode were placed on administrative leave last month. In a letter sent by Sunnyside Interim City Manager Jim Bridges, Sandifer was told she was being put on administrative leave while the city investigates her job performance and/or her involvement in inappropriate conduct toward another city employee or employees.
Rhode also received a letter from Bridges and was told she was being put on leave so the city could review an incident she was involved in on Thursday, Nov. 5, 2009.
While the city has refused to comment on this issue, it is believed the incident occurred between Rhode and Sunnyside City Clerk Deborah Estrada.
Raines asked the council to order Bridges to accept evidence of two investigations into the workplace environment at city hall before making any decision on the discipline of the two employees.
Raines claimed if the investigations aren't entered into evidence then the city will be exposing itself to more civil action. Both Rhode and Sandifer have secured attorney Brian J. Iller.
Sunnyside Councilman-elect Don Vlieger also made comments to the council regarding the issue.
"No one is asking the council to get involved in firing or hiring but you can ask the city manager to delay the (termination) hearing until investigators can give evidence," he told the council.
He urged the council to give Sandifer and Rhode more time.
One citizen, Jim Warren, asked the council to put off the hearing until the city hires a permanent city manager.
Josh Roe, president of the Sunnyside Firefighters Union, also urged the council to ask for all the evidence. He said it wasn't a matter of who is right or wrong, but it's about the fairness to labor. Both Sandifer and Rhode are not protected by a union and Roe questioned whether this would have gotten as far as it has if they had been union members.
Sunnyside Councilman Nick Paulakis told the packed council chambers that he knows this is an emotional issue and that he would like the truth and the facts to be heard before any decision is made. He made a motion to ask the city manager to hear all the facts before discipline is handed out. Sunnyside City Councilman Mike Farmer seconded the motion.
When put to a vote Garcia, Sunnyside Mayor Pro-tem Jim Restucci, Councilman Tom Gehlen, Councilwoman Theresa Hancock and Councilwoman Carol Stone voted against the motion.
Both Sandifer and Rhode are scheduled to appear in a disciplinary hearing today (Tuesday).
In a letter from Iller to city of Sunnyside attorneys, he claims the action taken against Rhode and Sandifer is retaliation against them engineered by Estrada for testifying against her in a sexual harassment investigation she filed against former Sunnyside City Manager Bob Stockwell. Any record of a sexual harassment claim wasn't forthcoming during a public records request made by this newspaper, however. Iller also claims Bridges has made sexist comments towards both Rhode and Sandifer.
In the same letter Iller claims Rhode admits she directed derogatory language at Estrada in the Nov. 5 incident. Iller also states in his letter that Sandifer admits to making comments in reference to hiring a hitman out of her frustration with Estrada but claims it was made in a joking matter.