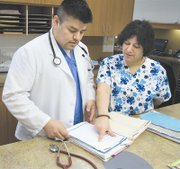 Fred Loera, a physician's assistant, is new at the Swofford Halma Clinic in Sunnyside, but he's not new to Lower Valley patients.
For the previous seven years, Loera worked at Sunnyside Community Hospital's emergency room.
"I'm trying to get more normal hours," he said of his move from the ER to a family practice. Loera and his wife have four children, and he said the late night hours at the ER were difficult for his family.
"Getting home at midnight or 1 a.m. is tough on the family," he says.
By contrast, the work day at the Swofford Halma Clinis is just that, a day shift.
"I'm able to participate more in the kids' sports and after-school activities," said Loera.
While he misses the day-to-day working relationships at the Sunnyside Community Hospital emergency room - Loera said he still works there a few hours a week - he's enjoying the quality time with patients at the clinic.
"In the ER I might see somebody, patch them up and that's it. I don't know what happens for that patient from then on," he said. "I like the follow-up at the clinic."
Loera adds he's seen more than enough violent injuries while working at the ER, preferring now the more stable clinic environment.
"I've seen my share of fatal injuries," he said. "If I don't see another stabbing or gunshot wound I'm happy with that."
At the same time, building relationships with patients at the ER, even if a one-time treatment, is paying dividends at the clinic.
"Thirty or forty percent of the patients I have encountered so far met me while I was working in the ER," he says. "That recognition helps provide immediate trust in the relationship."
The 1990 SHS grad has only been at the Swofford Halma Clinic for a couple of weeks and Loera says one of his goals is to develop good working relationships with his new co-workers.
"This is a great group to join," he smiles. "They're doing some excellent things right now."