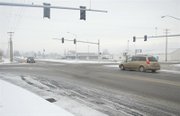 The operation of traffic lights at two intersections along South First Street is all that's hindering the completion of the approximate $6 million renovation project.
The traffic lights at the intersections of South First Street and Lincoln Avenue and South First Street and South Hill Road should be operating by next week.
Shane Fisher, an associate engineer in the city of Sunnyside's public works department, told the Daily Sun News the hold up on getting the traffic lights operational is the LED controller. Those parts have been on backorder but Fisher said they should arrive this week sometime and then be installed next week.
Sunnyside interim City Manager Jim Bridges told the council at last Monday's meeting that there will be cameras on top of the traffic lights, but they are to keep the traffic flowing, not to take pictures of speeders.
Although the traffic lights should be operational next week and the project completed, a name change ordered by the Sunnyside City Council some years back is unclear right now.
In 2005 the then city council passed a resolution that was to change the name of South First Street to Ronald Reagan Parkway once the project was completed.
Sunnyside Mayor Pro-tem Jim Restucci told the Daily Sun News he received an e-mail from a former city council member asking about the name change and Restucci said he forwarded it on to the then city attorney Mark Kunkler.
The last response Restucci got from Kunkler was that the council was bound by the resolution to make the name change. However, because so much time had passed, Restucci said Kunkler told him it should be taken back up by the present council. Restucci said he was told that council members could either uphold the resolution or make another decision.
Kunkler resigned last June.
That was the sentiment basically expressed yesterday by Sunnyside City Planner Jamey Ayling. He said that Kunkler had done a lot of research into the matter and there is a question to the validity of the name change.
Ayling believes the name change has to be done through an ordinance, not a resolution.
But there are enough questions, Ayling said, where the issue will probably have to be brought back before council and the city lawyers will need to look at it.
Ayling said the city wants to make sure everything is done properly before South First Street is changed to Ronald Reagan Parkway, adding that it will affect several businesses and residents along the road.