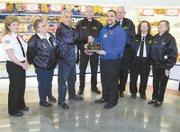 Fiesta Foods Sunnyside store manager Leo Leal received a plaque yesterday recognizing the store's participation in the Grandview VFW's holiday food box program.
Fiesta Foods donated 25 turkeys for the food boxes. In addition, the store offers items for the meals at sale price plus an additional 10 percent discount.
Domingo Ramirez is a former commander of the Grandview post and now serves as its chaplain. He noted that the VFW post has been distributing the holiday food boxes for about 15 years.
Ramirez added that the Grandview VFW serves about 37 to 40 food boxes each Christmas. Winnona Oliver is president of the Grandview VFW Auxiliary, and she says volunteers start assembling the boxes about a month ahead of time.
Oliver also noted that priority for the boxes is given to veterans, their families and widows, followed by senior citizens and the general community.
This year's boxes will be distributed tomorrow, Saturday, said Ramirez.
Besides food for holiday meals, the boxes include toys and stuffed animals for the children.
Leal says this is the fourth year he has been involved as a Fiesta Foods store manager with the VFW food box program.
"We are big supporters of veterans and the community," he said. "It's something we can do to give back to the community."