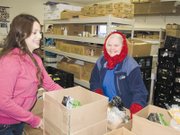 The economic downturn may have contributions down for some local non-profit charities, but organizers continue to have high spirits and hopes during this the busy holiday season.
Lower Valley Hospice and Palliative Care, for example, is seeing general giving numbers decline by about 10 percent compared to this time last year.
That's according to Executive Director Ron Jetter. "General donations are down. Attendance at our annual dinner and auction were down," he said of hospice's biggest fundraiser.
He says it's due to the recession that has gripped the country this year.
"There's just less donor dollars to go around," he said. "Charities have to be more careful than ever how they use their dollars."
The downturn has meant that hospice's 2009 goal of offering counseling groups throughout a service area that includes Yakima and Benton counties has gone unmet. "We haven't been able to achieve that," he said. "We see the needs of a society in grief and want to be there to help."
At the same time Jetter praised the community for donations this year that allowed the non-profit to sustain its hospice program for children who are terminally ill.
The down economy has brought some good news for hospice in that its thrift store in Prosser is seeing a 3 percent uptick in sales.
High school students have also been a bright spot for Lower Valley Hospice, as Sunnyside High School students have rallied to generate funds.
High school students in Benton City are also getting involved with hospice fundraising, even to the point of working towards a plan to start a thrift store in that community.
"Giving through youth groups has been better than in previous years and we are so thankful for them," said Jetter.
John Jacobs is a former pastor of Sunnyside First Christian Church and has been working with the Sunnyside Ministerial Association's food bank for about three decades.
There, too, giving is a bit down this year.
"We're doing pretty good, but the local giving's down," he said.
Jacobs said the food bank is feeling a double pinch during tough economic times as giving is down while the need is growing.
"We're up maybe 10 percent from last year," he said of the number of families helped through the ministerial association's food bank. "We're serving close to 600 families a month, that's about 2,500 people altogether."
That was echoed by Larry Mays, pastor at the Seventh Day Adventist Church in Sunnyside, which also operates a food bank. Mays says 242 food boxes were recently distributed. "We seem to be holding our own, but more people are coming through for food boxes."
Both food banks expressed optimism that there may be more donations forthcoming as the holiday season progresses.
"It's wonderful, we're really blessed!" said Melba Hursh, who runs the Seventh Day Adventist food bank, which earlier this week had people lined out the door waiting for food boxes.
Lower Valley Crisis Center and Support Services based in Sunnyside is also keeping a positive attitude.
"Donations are slow, but people are being as generous as they can. Considering the economy I've been impressed with the generosity folks have shown," said Julia Hart, the center's director. "People have been good about bringing in basic staples like food and warm clothing."
Hart says the center, too, anticipates more donations as Christmas approaches.
Even so, she indicated there are some family needs unmet that the center is "scrambling" to fulfill.
"Cash is always good," she said. "We can use it as the need arises for gas or for going out to get the food we need."
She added, "All in all for right now things are going fine, but we can always use more."
The Lower Valley Crisis Center is taking a proactive approach to picking up extra funds this holiday season, as it is planning a "Boxing Day" activity on Dec. 26, the day after Christmas which in Europe is also a holiday.
Hart said the Wylie House will be open from 10 a.m. to noon on Dec. 26 for those who would like to bring in a coat, appliance or household item they no longer need because they received a new one for Christmas.
She added it's also a chance for families to donate clothing their children have outgrown.
Life Options is a faith-based non-profit headquartered in Grandview that helps families with unexpected pregnancies. Their services range from counseling to ultrasound to providing the basic essentials for an infant.
Jan McDonald is the executive director of Life Options and she says the group has actually experienced growth this year, with a satellite office opened in Sunnyside.
"We're pretty stable," she said. "We were able to do the expansion. It's cost us some money but we have a lot of volunteers to make the money spread farther."
McDonald noted that there are some expenses that still need to be met though, as it will cost $8,000 to train nurses to operate brand new ultrasound equipment in Sunnyside.
But as a faith-based organization, McDonald said Life Options takes a faith-based approach to its donations, regardless of the economy.
"God doesn't participate in any kind of recession," she says. "We've seen it ourselves."