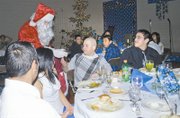 GRANDVIEW - With the goal of exposing students to a formal dining experience, the staff at Compass High School in Grandview annually remedies that through its annual Christmas dinner.
Students are encouraged to dress formally for the dinner, held each December. They can dress either semi-formal or formal for the event, according to business teacher Kim Gregory.
At the dinner held last Thursday Gregory said, "Not all our students feel someone cares and we want to show them we do."
Gregory feels students learn several other things from the experience. She has students involved in leadership at the school organize the supply list and entertainment. Those students, with assistance from her business students, decorate and set the tables inside the Compass High School gym, creating an atmosphere of Christmas spirit.
The tables are set with proper place settings, including napkins folded on the plates as though one is visiting an upscale restaurant. Each utensil is placed according to proper etiquette for a formal setting and bottles of sparkling cider sit among the place settings.
"It teaches the students proper organizational skills," said Gregory.
The entertainment this year was provided by the "Broadway Babes," three teens from Kennewick.
Gregory said the students wanted something different and learned to secure the entertainers through connections.
"A lot of life is like that...you use your connections to get something accomplished," Gregory explained.
Once the event is set, the tables properly dressed and the menu organized, the students of Compass High School gather for the meal.
More learning takes place throughout the function, as students learn not to overcrowd tables. They also learn proper etiquette throughout the meal, such as which utensil and which goblet to use. They learn it is improper to wear your coat during the meal, and if the occasion calls for it, to "give thanks" before "the breaking of the bread."
The goal, said Gregory, is for students to take with them the experience of dining in a formal setting so that they might be prepared for such events in the future.