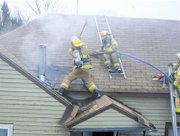 Sunnyside firefighters were called to the 900 block of South Eighth Street this past Saturday, at 2:21 p.m.
Fifteen firefighters responded to the blaze, which started because of a single-walled chimney pipe for a wood stove.
Firefighters estimate approximately $20,000 of damage to the building. No one was injured.
Also since last Thursday, firefighters have also answered 14 calls for aid, transporting 10 patients to the hospital. Firefighters also provided four transfers.