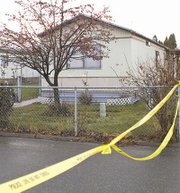 GRANDVIEW - Police are remaining tight-lipped about a possible motive in the slaying of a 16-year-old Grandview girl whose body was found at 4:30 a.m. Sunday morning.
Police do say a 17-year-old is in custody and formal charges will be determined by the prosecutor's office, though they are requesting the boy be charged with second degree murder.
The girl's body was found in her home in the Petteyville Trailer Court in the 200 block of Pleasant Avenue. Grandview police called on Washington State Patrol crime lab technicians from Spokane to secure possible evidence from the scene.
The girl appears to have been stabbed. Police are emphatic they will not comment further until autopsy results are complete. Yakima County Coroner Jack Hawkins said he plans to conduct the autopsy tomorrow, Tuesday.
Police are also remaining mum on the motive, though they did confirm the girl and boy knew each other.