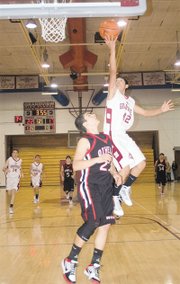 After a comfortable 68-41 win at East Valley this past Friday, the Grandview Greyhound boys basketball team withstood a furious rally by visiting Othello on Saturday before prevailing 71-61 to remain undefeated in CWAC South play.
Grandview used a 40-23 run in the second and third quarters to thwart Othello's 2-3 zone to seemingly pull away from the Huskies.
The Greyhounds led by 18 with 5:40 to play in the fourth quarter Saturday, before Othello knocked down one three-pointer after another to close within just two points with just over two minutes to play.
"I was just thinking it was time to sub in our reserves, but they (the Huskies) hit back-to-back threes so I kept them in," said Grandview Head Coach Roy Garcia.
Othello knocked down five treys in the fourth quarter and for the game shot nearly 50 percent from long range, connecting on 10-of-22 three-point attempts.
Grandview righted the ship and won by double digits with the same strategy it used to pull away in the second and third quarters: pound the ball inside to big men Derek Newhouse and Christian Schrank.
"We hit some big buckets," Garcia said of his team's play over the final two minutes. "The kids weren't going to let this one slip away."
For the game, both Schrank and Newhouse recorded double-doubles, with Schrank scoring 21 points and recording 10 rebounds. Newhouse tallied 18 points and climbed the ladder for a game-high 11 boards to go with three blocked shots.
Jericho Ramos also tallied in double figures for Grandview with 11 points and Tony Vela poured in 10 points and pushed the Greyhound attack with 8 assists.
David Charles led Othello with 21 points.
Saturday's exciting finish was a far cry from Friday's romp at East Valley.
Grandview set the tone from the outset by outscoring the Red Devils 21-6 in the first quarter. Leading 37-19 at the half, the Greyhounds put the game away with a 19-12 run in the third quarter. Grandview stretched its lead to as much as 31 points, leading 64-33 in the fourth quarter.
"We were able to use our pressure defense and push the basketball inside," said Garcia.
Newhouse sparked the Greyhounds' first quarter rally with eight of his 14 points for the game.
Grandview again focused on a balanced attack, led by Adrian Vela's 16 points. Schrank added 15 points, while Tony Vela added 10 points.
Grandview (3-0, 4-1) gets in one more league game before a Christmas break when it travels to Quincy this Tuesday, Dec. 22.
Looking ahead, Garcia said his players learned a lot about themselves in fending off Othello's fierce rally Saturday night.
"We learned that our tempo has to stay up for 32 minutes," he said. "It gave us a chance to see what we can do when a team rallies against us. Now we know we can sustain a run by the other team and come out with a victory."