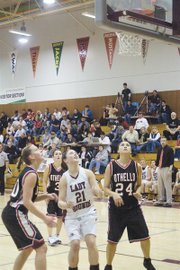 Grandview's girls basketball team dropped the ball, so to speak, in a Friday night game against East Valley, 73-20.
Grandview Coach Paul Van Pelt refers to it as a rude awakening.
"We did not come ready to play at all," Van Pelt said. "We were out-hustled, out-worked and out-played in all aspects of the game."
East Valley, playing on its home court, held the Lady 'Hounds to single digit scoring in every quarter.
Grandview's Gabby Montelongo tallied six points and four rebounds and Gio Gomez scored five points, had seven rebounds and two assists. Teammate Payton Parrish finished the night with three points and two rebounds.
Van Pelt said after the game he hoped the loss would get the Lady 'Hounds to think about what they need to do in order to be successful.
Saturday night's game proved just that, with the Grandview Greyhounds defeating the Othello Huskies, 56-45.
"We found that intensity that we need in order to compete in this league," Van Pelt said. "The girls came in focused and ready to prove to people that they are a good team and they can in fact win."
Payton Parrish led the Lady 'Hounds in scoring with 25 points and 10 rebounds. Teammate Jessica Lopez scored 18 points for Grandview and had four rebounds and three assists. Mikaela Espinoza finished the night with eight points and four rebounds.
"I think we are starting to figure out who we are as a team, and what roles we need to play," Van Pelt said.
The Lady 'Hounds (1-2, 2-3) next play at Quincy this Tuesday.