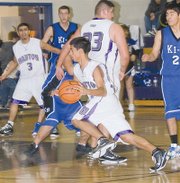 MABTON - It was a total team effort last night in Mabton as the Vikings got off to an exceptional start and rolled over the Ki-Be Bears in a SCAC non-league match-up.
Eleven of the 12 Mabton players scored as the Vikings registered their third straight win with a 69-28 victory last night.
"We came out really quick," Mabton Coach Brock Ledgerwood said.
Mabton's Kristian Carrasco and Derrick Nash each hit three-point shots in the opening minute and the Vikings were off to the races.
The Vikings were up 19-4 after one quarter and took a 37-12 lead into halftime.
"We were pressuring them on defense and making it tough for them," Ledgerwood said. "That led to some easy baskets for us. The defense is really starting to come into their own."
To begin the second half Ledgerwood said his team wasn't showing the drive and intensity they did in the first half so he called a timeout to remind his team to finish the game. The Vikings responded and Ledgerwood said his team's energy picked up for the rest of the game.
Mabton increased its lead to 50-20 after the third quarter and the Vikings were able to work on different defensive packages and still keep their intensity up.
Carrasco led the Vikings with 15 points and four steals. Josh Strickland scored nine points for the Vikings, all in the second quarter. Josh Sanchez had eight points and six rebounds and Carmen Johnson finished the game with eight points.
Brett Eagan led the Bears with 10 points and eight rebounds.
Ledgerwood was happy with his team's intensity and noted the Vikings grabbed more rebounds, 41 to 23, than Ki-Be did.
"I was really happy with the energy and effort, we worked hard," Ledgerwood said. "This will give us something to build on for January."
Mabton (2-0, 4-2) will travel to Mattawa on Tuesday, Dec. 29, for a 7:30 p.m. game with Wahluke.