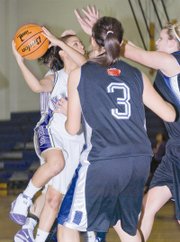 MABTON - "We just keep digging ourselves a hole," Mabton Coach Chris McCallum said of last night's 42-39 non-league loss to the Kiona-Benton Bears.
The Lady Vikings were down 18-13 at the end of the first quarter and 27-19 at the half.
"We were taking bad shots and didn't get the rebounds," shared McCallum, stating his team lacked intensity in the first half as if they were asleep.
Mabton was outrebounded 46 to 21 for the game and was just 6-for-20 from the free throw line.
The Lady Vikings struggled once again to overcome the press as the Bears forced several ill-timed shots.
Also plaguing Mabton early on was the foul trouble sustained by Crysta Reynolds and Veronica Vasquez, who were forced to the bench.
"My girls weren't boxing out and they were getting lazy on their defense," McCallum commented.
Mabton found it was more successful playing man-to-man defense and began to rally in the second half of the game. They came within one point of the Bears in the final minutes of the fourth quarter after Vasquez sank two three-point shots. The score was 40-39, but the Lady Vikings faltered down the stretch.
Mabton had its opportunities, though.
"We put the ball up and we missed the shots," said McCallum, stating there were two three-point shots from the wing that didn't go in because his players didn't relax and set themselves.
He added, "We also couldn't use Crysta (Reynolds) the way I would like to." Explaining, he said Reynolds' foul trouble was costly in that it kept her on the bench throughout the second quarter and limited her to four points in the game. She did scrape the glass for eight boards, however.
Vasquez scored 16 points and grabbed the ball from the board seven times in the game.
Also getting in a few shots was Melissa Gutierrez of the Lady Vikings, with a total of nine points. Jazzee Sustaita scored seven points for Mabton.
"Our last three losses were all by a combined nine points...we need to stop losing as a result of holes we dig ourselves into," said McCallum.
"We need to start stronger and we need to finish stronger...we need to focus and settle down, especially at the free throw line."
The Lady Vikings (1-1, 2-5) travel to Wahluke next Tuesday, Dec. 29.