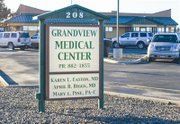 GRANDVIEW - Grandview Medical Center will more than double in size under a plan approved Tuesday night by the Sunnyside Community Hospital Board.
Plans approved Tuesday call for construction to begin in early 2010. Depending on the weather, groundbreaking could be as early as January. Construction is expected to be complete by June.
The board has approved a lease/sale option that will allow the hospital to sell the existing building to developer Lloyd Butler. Butler will build on to the clinic, creating an additional 3,000 square feet of space for patient treatment rooms, office space for providers and additional waiting area. The hospital, in turn, will lease back the space from the developer.
Grandview Medical Center was built in the mid-1990s as part of an effort to recruit Dr. Karen Easton from Canada. The practice was originally built for no more than two providers, but expansion has been considered ever since the hospital purchased property along Euclid Road.
Easton was joined in the practice six years ago by Dr. April Biggs. Mary Pine, PA-C, has also worked in the Grandview clinic for nearly two years.
Expansion of Grandview Medical Center was identified as a top priority when the hospital board held a retreat in October. The hospital also expects to place at least one additional provider into Grandview Medical Center sometime next year.
"Our board has taken this step to assure we continue to be able to meet the needs of the people of Grandview and western Benton County," said CEO Jon Smiley.
"In the face of a challenging economy we still must have the infrastructure and people we need to serve the communities around us," said Smiley.