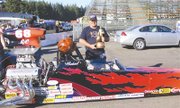 After a decade of drag racing, the Dalrymple family of Sunnyside recently claimed its first ever divisional title.
Michael Dalrymple clinched the Pacific Northwest Division 6 Super Comp title last month when he competed at an event in Las Vegas, Nev.
Division 6 has a total of 122 competitors. Dalrymple's division requires drivers to finish a quarter-mile race as quickly as possible without going under 8.9 seconds. John Dalrymple, Michael's father, said his son typically hits speeds up to 178 miles per hour.
The Pacific Northwest drag racing title has also advanced Michael Dalrymple to number six in the world out of more than 1,000 drivers.
He was honored this past week during a banquet at Sea-Tac attended by 500 people. At the banquet he received the Super Comp champion's jacket, a check for $2,000 and big trophy for his winning ways.
The Dalrymple team knows how to win, but this is their first divisional title.
John Dalrymple, who owns and operates Cliff's Septic, has finished second and third in his division in past years.
The secret to finally capturing a number one finish wasn't complicated, the senior Dalrymple notes.
"He was just having a really good year," Dalrymple says.
That good year started with a semi-final finish at Woodburn, Ore. in July, followed a week later by winning a national drag racing event in Seattle.
Dalrymple's chase to a divisional title continued in August when he finished in the final three in another national competition in Brainerd, Minn. That event featured a field of 110 cars.
The good times kept rolling from there, including successful stops in Billings, Mont. and last month in Las Vegas.
The spoils of winning in 2009 will benefit Dalrymple's team in 2010, as he receives a gold card that gets him and a crew member into every race for free.
That's a savings of $340 per race for the 13 or so events the team enters every year, a value of more than $4,000.
Dalrymple says there's another reason why his son may have enjoyed so much success this year.
"He has a good luck charm," he said. "His girlfriend Stephanie."