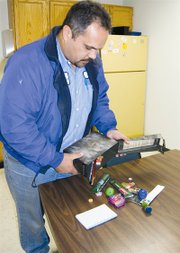 It's Christmas 365 days a year for a growing group of people who participate in the activity known as geocaching, essentially a game of hide and seek using a GPS device to locate hidden caches or boxes.
"I wanted a GPS for hiking but I didn't use it that much," says Sunnyside native Jeff Van Eaton. "Then I saw an article about geocaching, visited the website and it took off from there."
Van Eaton, now a teacher at Kamiakin High School living in Pasco, has been involved in geocaching since 2006 when he planted his first cache near his parents' Harrison Hill home.
"They are happy to have it there because that means we visit more," he laughed. Van Eaton said his parents, David and Janice, also enjoy visiting with the 86 people who have already discovered his cache and signed a log book at the site. "Sometimes he'll help them find it," Van Eaton said of his father.
The cache Van Eaton planted in Sunnyside is a large one with what he calls McDonald toys. "I just wanted to make one big, a lot of the caches are micro and really small, really hard to find," he says. "This one is kind of easy, but yet difficult at the same time."
The rule of etiquette at a cache is to sign its log and if you take an item then leave one of similar value, noting what you took and what you've left in its place.
Most of the time caches have small dollar store type items.
The thrill, says Van Eaton, is just in finding the hidden cache.
"For me it's the finding, actually being able to say I found it," he said. "There are so many, I can go anywhere and there might be a cache within a mile."
The 1991 SHS grad, who also planted a cache at Lake Kachess near Cle Elum, says his children enjoy it, too.
"It's a fun thing for the whole family and a fairly inexpensive thing to do," Van Eaton says.
Stan Phillips agrees.
The Yakima resident passes through the Lower Valley frequently as an air conditioning and heating technician.
"My niece found a rubber bouncy ball at a cache and she lit up the whole day," Phillips said.
Phillips just started with geocaching in August of this year, but he's already hooked.
"I've found all the Sunnyside caches," Phillips said, noting he's found as many as 100 caches in a month. Besides Van Eaton's cache, other locations in Sunnyside include a site behind a truck stop and in the vicinity of some light poles in a parking lot.
Phillips says there are only two caches in Grandview and just 10 in Sunnyside, while Yakima has 300.
The Lower Valley hotbed for caches, it turns out, is in Prosser where there are about 30.
Phillips says his brother got him turned on to geocaching and tomorrow, Christmas day, he is returning the favor. Phillips has created a series of Christmas caches, each one offering a clue to find the large cache gift he's hidden for his brother.
Like Van Eaton, Phillips says the search is the thing.
"There's no telling what's going to be in a cache and how hard it will be to find," he says. "There's just something about knowing that you're one of the few people who know something's there."
For more information about geocaching, visit the site www.geocaching.com.
While there you can type in your zip code and find out what caches are in your area after you sign up for a free registration.
Who knows, you too might get hooked on Christmas 365 days a year.