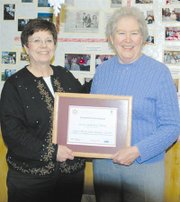 Soroptimist International of the Lower Yakima Valley, a volunteer organization for business and professional women, presented its Ruby Award for "Women Helping Women" recently to Sister Mary Rita Rohde of Sunnyside's Nuestra Casa.
The award was presented to Rohde at a recent Christmas dinner, and Nuestra Casa is the recipient of a $500 donation as a result.
The funds, according to Rohde, will be utilized in the continuation of teaching English as a second language to migrant women.
Nuestra Casa has been providing classes for the past six years, as a result of the vision to assist women through education.
The programs at the non-profit organization have grown to include driver's training, health education, adult literacy and more. More than 1,000 people were served by Rohde's organization throughout the past year, without direct government funding.
Rohde will now be eligible for additional awards at other levels of Soroptimist International, including a $5,000 finalist award to be contributed to any charity of the award recipient's choice.
The Ruby Award honors "ordinary women, who through their professional or personal activities, make extraordinary efforts on behalf of women and girls," according to the Soroptimist International of the Lower Yakima Valley.