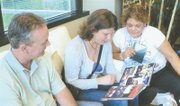 Had B.J. Miller not died, Brenda Webb may not have lived.
Webb, a California resident, learned she was suffering from a liver disease while pregnant with twins.
"I was perfectly healthy and fine, an active and healthy person," Webb says. After getting pregnant, she started having symptoms and it wasn't long before she was diagnosed with the same liver disease her mother had.
"When I found out, my mom was on the transplant list," she recalls.
The disease slowly progresses, she adds, "But the symptoms are awful."
Though the disease was supposed to progress slowly, Webb says, "Two years into it I started to go downhill fast. I just got worse and worse. I had no energy."
Webb's husband quit his job to stay home and take care of his wife and twins.
Webb, in the meantime, was reluctant to look into a liver transplant.
"I didn't think I was ready," she says, adding that her mom was insisting she get on the list.
Webb flew to Seattle. There, she says doctors told her she was ready. She and her family relocated from Tahoe to Seattle and moved in with Webb's sister.
After being put on the list, Webb had five different occasions where she was called and told a liver might be available. Each time, she trekked to the hospital and once was even on the operating table waiting to be anesthetized when doctors determined she should not receive that particular liver.
Webb began to wonder if she'd live to see Christmas, or the end of the year. She was exhausted and sick; her thought processes muddled by the toxins her liver couldn't clean from her body.
"We were praying. I was dying," she says.
Then tragedy struck the Miller family of Sunnyside when B.J. Miller got into an accident in October of 2007.
John and Daria Miller were told at Harborview that their son, who by this time was on life support, had suffered severe head injuries. A team approached the Millers about organ donation.
"John and he (B.J.) had talked about it before," recalls Daria. "John said yes, he didn't hesitate, and I said, 'Whoa!'."
Daria, who has a nursing background, says she grilled the team, peppering them with questions.
Ultimately, she says, "We knew Beej wasn't going to pull through. We knew we weren't going to make him hang on like that, forever on life support."
Daria lay on her son's bed, thanking him for blessing her life and singing him lullabies. Eight minutes after being taken off of life support, B.J. passed away and was then whisked away to surgery so his corneas, pancreas, kidneys and liver could be donated.
Webb got the sixth call to go to the hospital, but this time, she recalls, things were different.
"I walked into the OR and I hardly got a chance to change," Webb says. "Other times it was slow moving."
At the age of 37 and after suffering from liver disease for five years, B.J.'s liver was put into Webb's body.
Despite the pain from surgery, Webb could feel the difference right away. Webb was released from the hospital after four or five days.
"Within a week I was walking around the block," she says. "I hadn't walked around the block in at least a year."
Soon, she and her family were able to make a weekend jaunt to Friday Harbor, hiking a little bit at Mt. Rainier. Nine months after getting B.J.'s liver, Webb says, "I was back to my old life."
It took awhile for her children to adjust to their new mother. One time, on a family outing, she recalls, "I remember my son asking me, 'Do you need to go sit in the car? Do you need to go lay down?' They didn't know a mom who was well."
Webb says being an organ recipient is hard to explain.
"It's such a mix of emotions," she says, struggling to find the right words.
"I'm so grateful for little things and having time with my kids...I'm thankful for every moment like that. The flip side is John and Daria. Their loss is what I'm so grateful for."
The Millers ultimately met Webb. First they wrote letters. The Millers wrote to Webb about B.J.
"It took me three hours to read that letter," Webb says softly. Reading about B.J.'s life, she says, "Took me to my knees."
Upon their first meeting, Daria recalls, "When we saw her, it was just unreal to know this lady who was so sick was so alive because of our son's organ."
They talked a lot about B.J. Who he was, his personality. "She was so interested, so taken by (stories of his life)," Daria says of Webb.
Webb says she felt a more "connected sense of gratitude." She was already grateful, but now she feels connected to B.J.
Later, the Millers met Webb and her family at a pier in Seattle.
"It was beautiful when I met her kids at the pier," Daria recalls, adding the daughter peered closer at Daria's necklace, which featured a picture of B.J.
"She told me, 'This is B.J. B.J. helped my mom'," Daria recalls.
Webb and the Millers are firm believers in organ donation.
Webb says, "When your loved one is gone, the grief is still going to be there whether their organs are there or not."
One misconception is that donating a loved one's organs means a closed casket will be necessary. That's not so, though the thought struck John on his way home from Seattle after B.J. passed away. The funeral home called when the Millers got home and urged them to come down and see their son.
"My beautiful baby boy...," John says. "We went down to see him and I must have cried for an hour straight, maybe two hours straight."
B.J. looked just like B.J.
"The funeral industry is well past that deterrent," John says.
B.J.'s organ donation has had a ripple effect, Webb says.
"It's such an amazing salvation. It's not just a gift to me, but a gift to my kids, my loved ones as well."
Daria says, "There is life after death. That's one thing we see and believe. We've been touched by it. I miss my little boy. And he's given life to other people."