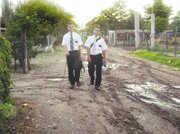 After living in Mexico the past two years, Sunnyside's Samuel Wise has returned home.
Wise spent two years in the Mexican state of Sinaloa, where he did mission work for the Church of Jesus Christ of Latter Day Saints. It was two years where Wise totally dedicated his life to the work of God.
"I'm a different person now," Wise said. "I saw and experienced many different things.
"You grow up," Wise continued. "A lot of people say those two years are the best of your life."
Wise worked in six areas of the state of Sinaloa in his two years of mission work. Wise became, as he described, a student of the scriptures, and studied for two years.
"The best way to do it is to forget about yourself, your life," Wise explained.
He went without television, radio, girls and family contact so he could dedicate himself to the mission. Wise was able to call home twice each year, once on Christmas and once on Mother's Day, for 30 minutes. He was also able to make internet contact once a week. For all other correspondence Wise relied on the post office.
It was tough. Wise said he had family members that had children during his two years away. But it was a sacrifice so he could stay focused.
"I was there to serve the people," he said. "I was helping them, spiritually more than anything."
Wise didn't really have time to dwell on home sickness, saying he was busy all the time. When he had 10 hours to work he never thought of it as having to work for 10 hours, but of having only 10 hours to get the work he needed to get done, finished.
His first city he worked in was Mazatlan, a resort city on the coast. It was strange, he said. Wise thought he'd visit the city some day, but not as a missionary.
The life of a Mormon missionary is very rigorous. He woke up daily at 6:30 a.m. and was studying by 8 a.m. By 10 a.m. Wise and his companion were out preaching the Gospel. After a 2 p.m. meal Wise was back at it, preaching the Gospel until 9 p.m., sometimes later. He was in bed by 10 p.m.
"I saw a lot of people make changes in their lives," he said. "I saw them focus more on their family."
The quality of living never really changed, but Wise said through God's work the families that he touched had a brighter outlook on their situation.
The most dramatic event Wise saw in Mexico was the aftermath of a hurricane. He was at a ranch during the storm and afterwards, Wise said there was no water for three days and no electricity for five.
"I saw a lot of people getting water from a dirty canal to drink," he said.
It was an experience that led him to reflect on some things. He realized that he took some things for granted, like hot water or clean drinking water.
He spent three months in the city of Culiacan,, which is the capital of Sinaloa. Culiacan has been ravaged by drug violence in recent years. During the three months he was in Culiacan Wise said at least 50 people were violently killed.
Still, Wise said he never felt threatened. He felt as though he was protected, doing God's work.
The objective was always the same, no matter what area he served in.
"We went to an area and invited people to come to Christ," he said.
Wise grew as a person during the two years of his mission. He was able to play a leadership role while he was on his mission and even led other missionaries on some occasions.
He said he learned several things while away. One of them is to set goals.
"It's how you progress," Wise said. "You set goals and then complete them."
He also has a stronger understanding of the love God has for his children, he added.
But one of the most important things he learned is that it's during life's greatest trials that the greatest lessons are learned. This whole experience, he said, has helped him take a positive stance with all the trials in his life.