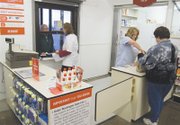 There are changes afoot at the Sunnyside Bi-Mart.
The store recently expanded its pharmacy area, moving the walk-up window and adding counter space beyond the old pharmacy counter.
Dylan Gardner is the pharmacy manager at the Sunnyside Bi-Mart, and he said the store here is one of eight the company has upgraded with an expanded service area for the pharmacy.
Gardner said the pharmacy has gotten busier and by having the counter out front of the pharmacy area it's provided more room for filling prescriptions.
He also noted that the Sunnyside store now offers a dedicated cash register for walk-up window customers and for in-store customers.
The expanded counter space has also provided a larger area for the store to offer and administer flu shots and H1N1 vaccines.
Gardner smiled and said it took customers a little while to adjust to having the window moved over. In-store customers also are adjusting to having a counter available to them that's situated more in the pharmacy retail area.
The results have been positive, Gardner says, as customers have appreciated the additional space.
"They like it," he said.