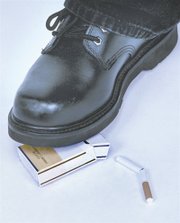 Every January, the Washington State tobacco quit line experiences an increase in calls from people looking for help with their New Year's resolution to quit smoking.
From 2001 through 2008 the average number of calls per month is about 1,300.
The average number of calls in January is about 1,800, which is a 28 percent increase.
The tobacco quit line is a key part of the state Department of Health's effort to reduce adult tobacco use.
All Washington residents are eligible for some level of free support from the toll-free tobacco quit line (1-800-QUIT-NOW, 1-877-2NO-FUME in Spanish.)
Since November 2000, more than 125,000 Washington residents have called the quit line for information, counseling, a personalized quit plan and other help.
Callers speak with a trained quit coach who helps them identify their smoking triggers, set a quit date and learn strategies to cope with withdrawal symptoms and stress.
Washington residents on Medicaid are eligible for additional support to help them quit, including prescription medication, if appropriate.
Studies show that calling the quit line can double the chances of quitting successfully.
A new federal tobacco tax took effect in April 2009, prompting thousands more calls to the quit line than it normally receives.
The newly redesigned www.quitline.com offers information about what to expect when calling the quit line and tools to support quitting attempts.
Tools include videos of quit coaches talking about what happens when people call the quit line, an interactive quit plan, quizzes designed to test knowledge of the quit process, and information and videos of quit coaches in English and Spanish.
The web site also promotes the state's "Dear Me" cessation campaign, featuring real people from Washington talking about their tobacco addiction and struggle to quit.
Washington has the sixth lowest smoking rate in the nation.
Since the Department of Health started its comprehensive Tobacco Prevention and Control Program in 2000 adult smoking has steadily declined, from 22.4 percent in 1999 to a new low of 15.3 percent in 2008.
There are 295,000 fewer people smoking in the state and an estimated 98,000 people will be spared early, tobacco-related deaths. This decline in smoking will save an estimated $2.8 billion in future health care costs.
In Washington, the average cost of a pack of premium cigarettes is now $6. A pack-a-day smoker can easily spend more than $2,000 a year on cigarettes.
Nationally, adult smoking declines have stalled in the last five years. According to a recent survey by the Centers for Disease and Control (CDC), the national smoking rate is 20.6 percent.
There are still an estimated 770,000 adults who smoke in the state.
In Washington, tobacco-related diseases kill about 7,500 people every year and about 45 youth start smoking each day.
Each year, the tobacco industry spends more than $146 million in Washington to hook smokers.