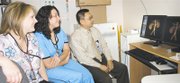 Sunnyside Community Hospital has unveiled a new "state of the art" CT scanner as part of continued upgrades to the diagnostic imaging department.
The new GE LightSpeed VCT Select works faster and provides greater imaging detail than older scanning equipment.
"CT technology is based on the number of slices or images of the body that are measured with one pass of the scanner," according to Department Manager Coleen Goulet.
"The LightSpeed is a 32 slice scanner, which is very fast and very accurate."
She explained, "Speed is important in working with pediatric patients, and also with the very ill or the elderly. It shortens the time the patient has to hold their breath and helps to deliver outstanding image quality and clear, high detailed images of the lungs, kidneys, muscles and other parts of the body."
The hospital removed the older CT machine about two weeks ago, and staff from GE oriented local technologists on use of the new equipment.
Sunnyside Community Hospital last week also announced that it will soon provide the latest in mammography screening technology.
Selenia digital mammography incorporates revolutionary imaging technology that provides incredibly sharp breast images. The images appear on the technologist¹s monitor in a matter of seconds, there is no waiting for film to develop, which means less time in the breast imaging suite for patients.
The new digital mammography system will be installed in mid-January in the hospital's Breast Imaging Center.
The Sunnyside hospital is a certified Pink Ribbon Facility, a distinction awarded only to an elite group of health care facilities. By offering women digital mammograms, the facility hopes to increase the number of area women who follow recommendations for regular screenings.
"We've been planning this transition for more than a year," said Goulet.
"We are very pleased with the system we have selected."
She noted the hospital has invested a great deal into new imaging technologies. "Our commitment to technology means that patients coming to Sunnyside Community Hospital can be assured they are getting care and diagnoses from well trained professionals using up to date equipment."
Selenia digital mammography offers a number of other practical advantages and patient conveniences. Because there is no waiting for film to be developed it significantly reduces the need for repeat exams due to under or over exposure. Digital images are easily stored and transferred electronically, eliminating the dependency on one set of original films, which can be misfiled or lost in transit.
Breast cancer is the second leading cause of cancer death among women, exceeded only by lung cancer. Statistics indicate that one in eight women will develop breast cancer sometime in her life. The stage at which breast cancer is detected influences a woman¹s chance of survival. If detected early, the five-year survival rate is 97 percent.
Sunnyside is committed to the fight against breast cancer. In offering digital mammography, the hospital will have the latest in imaging quality.
Those who would like to schedule a mammogram or have questions about this breast health procedure, call 837-1760.